I'll preface this update to tell you that I wrote part of it while I was there and part of it when I returned home, so there will be lots of present and past tenses mixed in! Bear with me!
I woke early at 6am, feeling a lot better than I did yesterday which was a frustrating afternoon of packing, unpacking and repacking.

I had a shower, finished my update from Serengeti, did a little video diary (which I tried to do throughout the trip and will eventually get to editing), had breakfast, got my bag checked in at the hotel of all the stuff I wasn't taking up the mountain to leave there and then eagerly awaited our 9:30am start.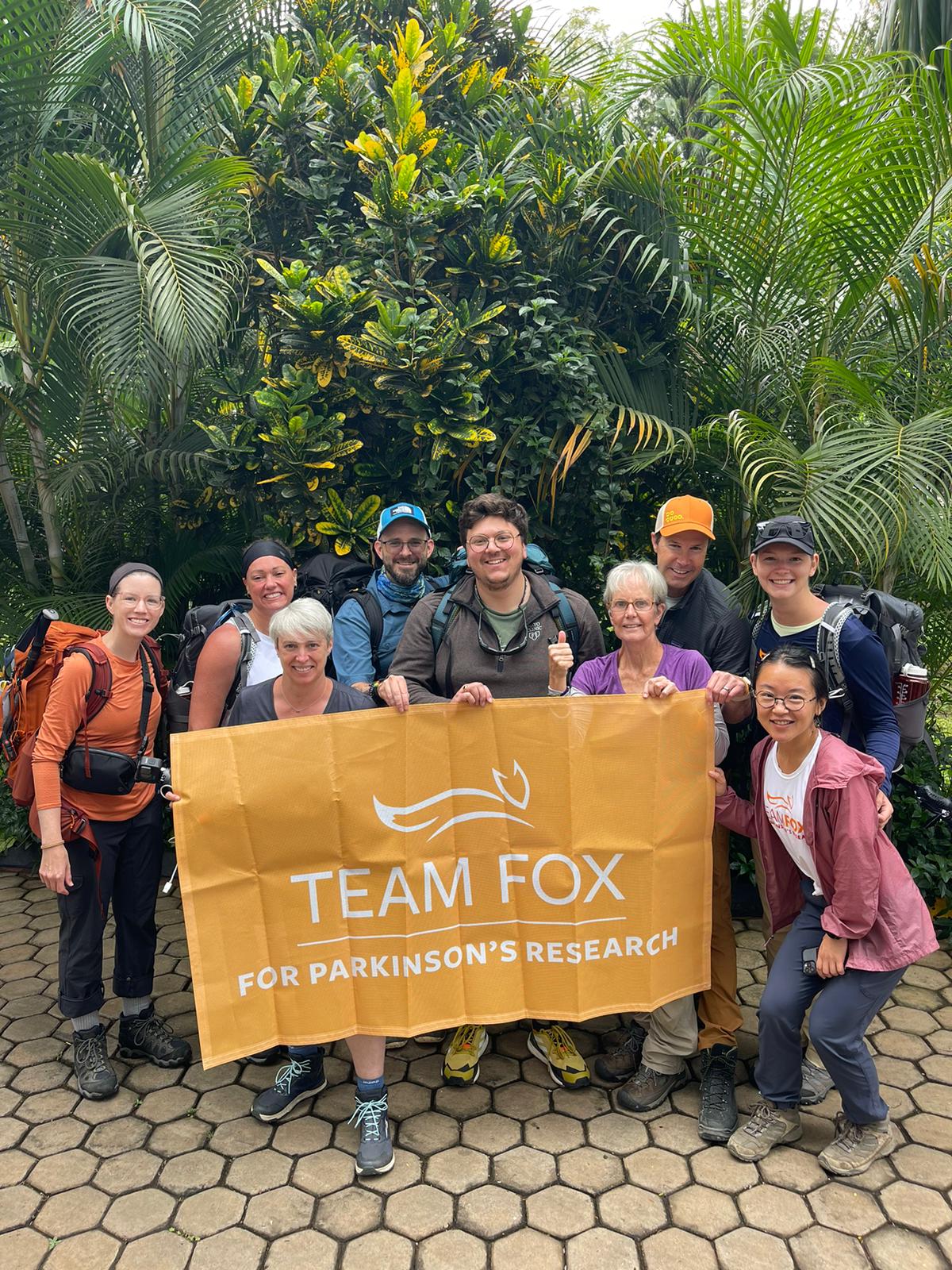 Yesterday at our briefing with Abel the head guide, and Deus, the tour operator, we were told that we wouldn't be starting on the Lemosho Route, we were going to start on the Shira Route at the Morum Barrier Gate. Then we traverse over to Shira 1 camp where we pick up the Lemosho Route. That does mean that we miss the rainforest part of the hike which I'm a little disappointed about. But we go through it at the end of the hike (unless I'm airlifted down 😂).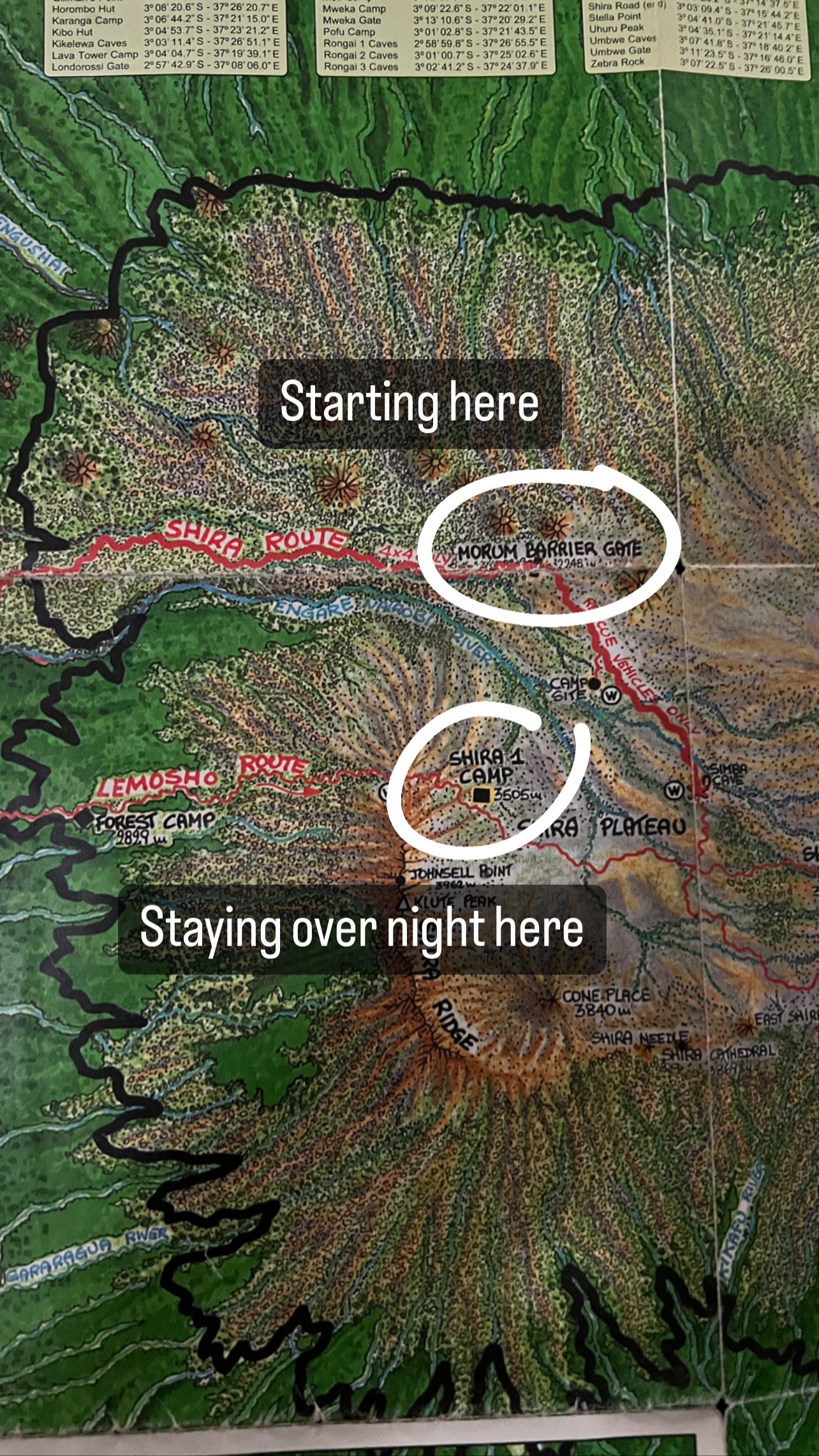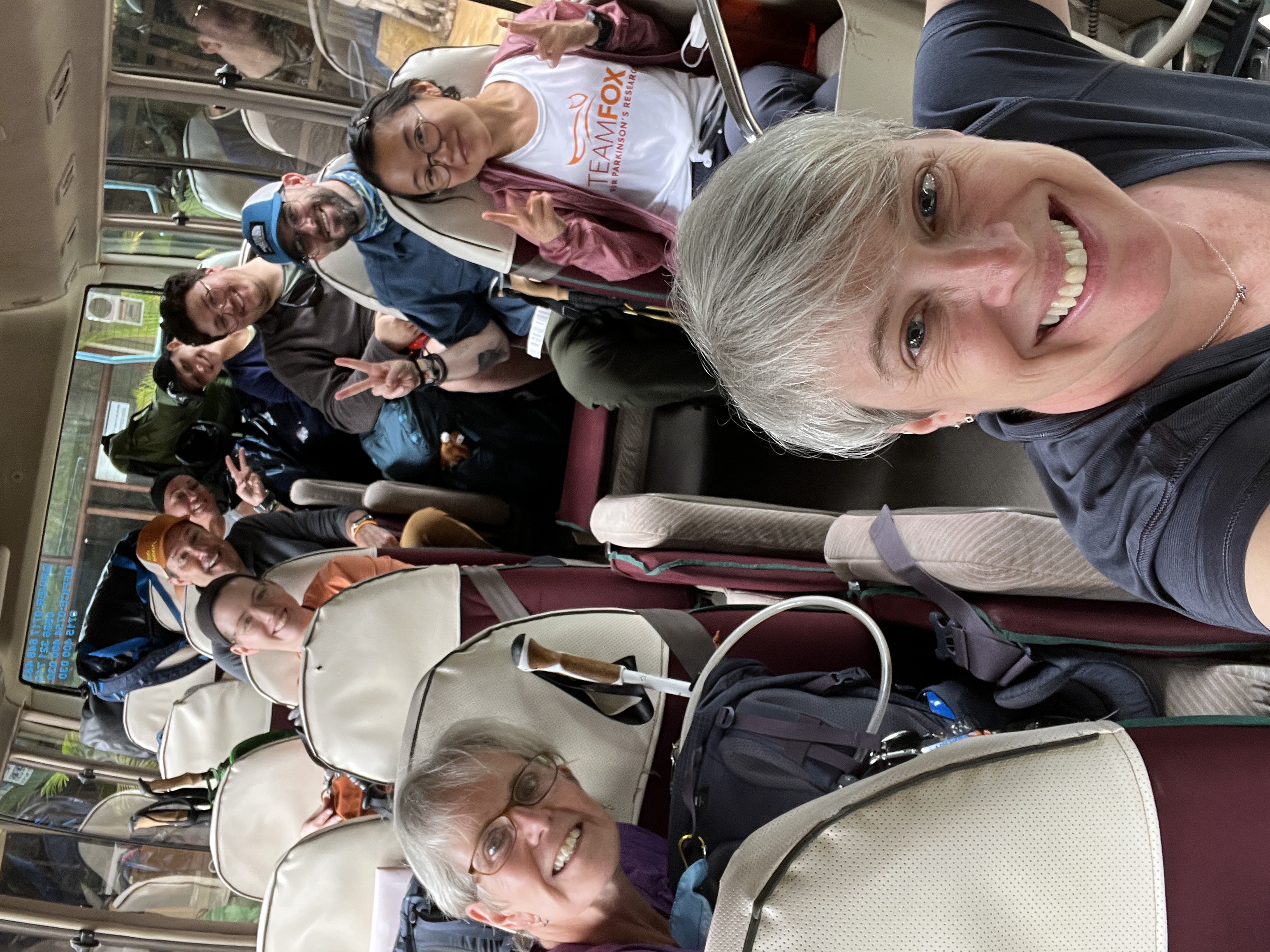 Me, Lucretia, Laura, Mark, Kristen, Betty, Alex, Justin, Connie
We didn't actually start the drive to Mount Kilimanjaro until around 11am, we then stopped at a gas station for about 90 minutes while some things were being organized for the trip. Lucretia bought us all a bandana with the Tanzanian flag and the different routes of Mount Kilimanjaro. We continued on to the gate and saw some giraffes on the way, so we stopped for some photos and a toilet break (the diamox that we had started taking for altitude sickness makes you pee - a lot!)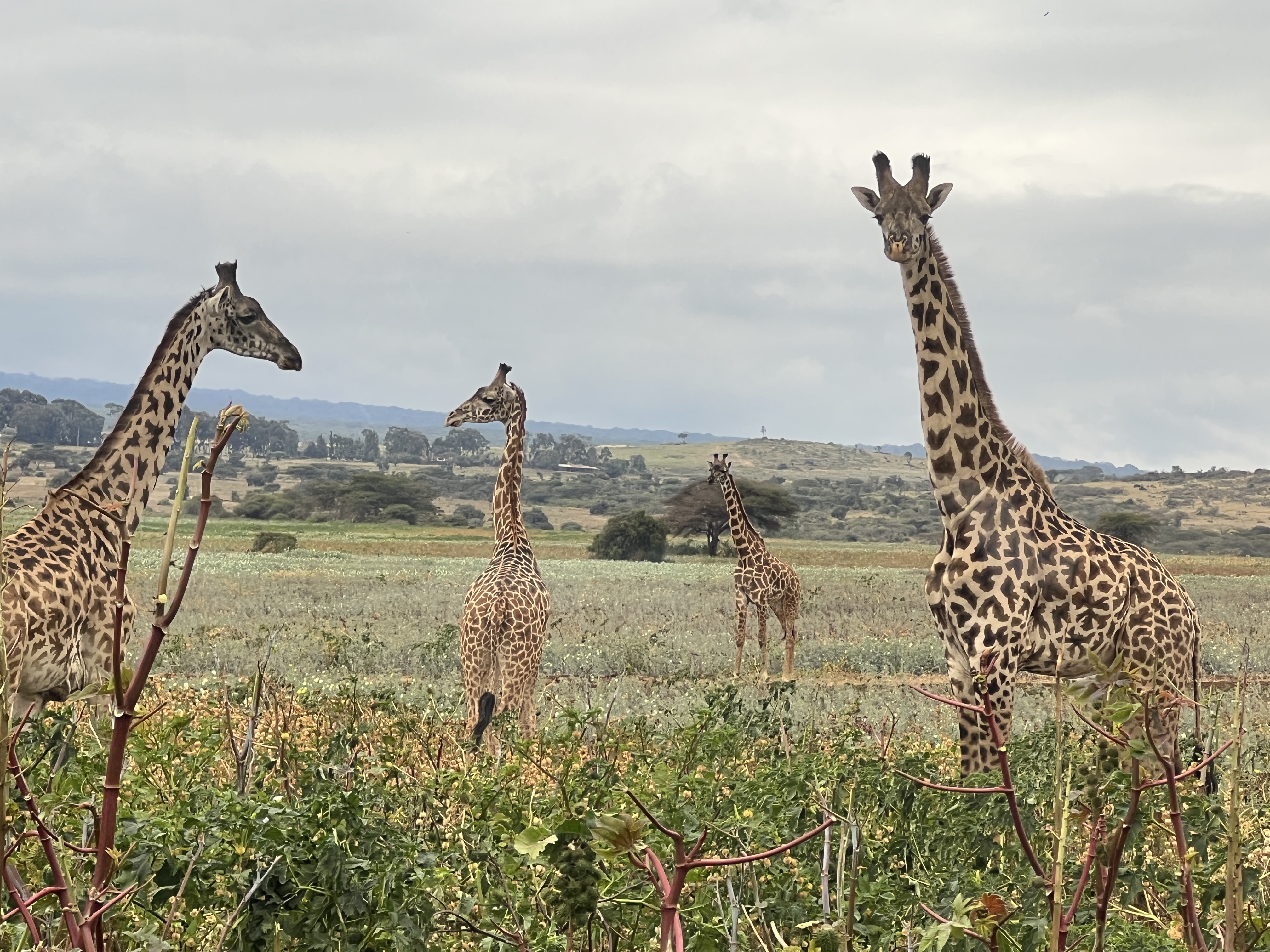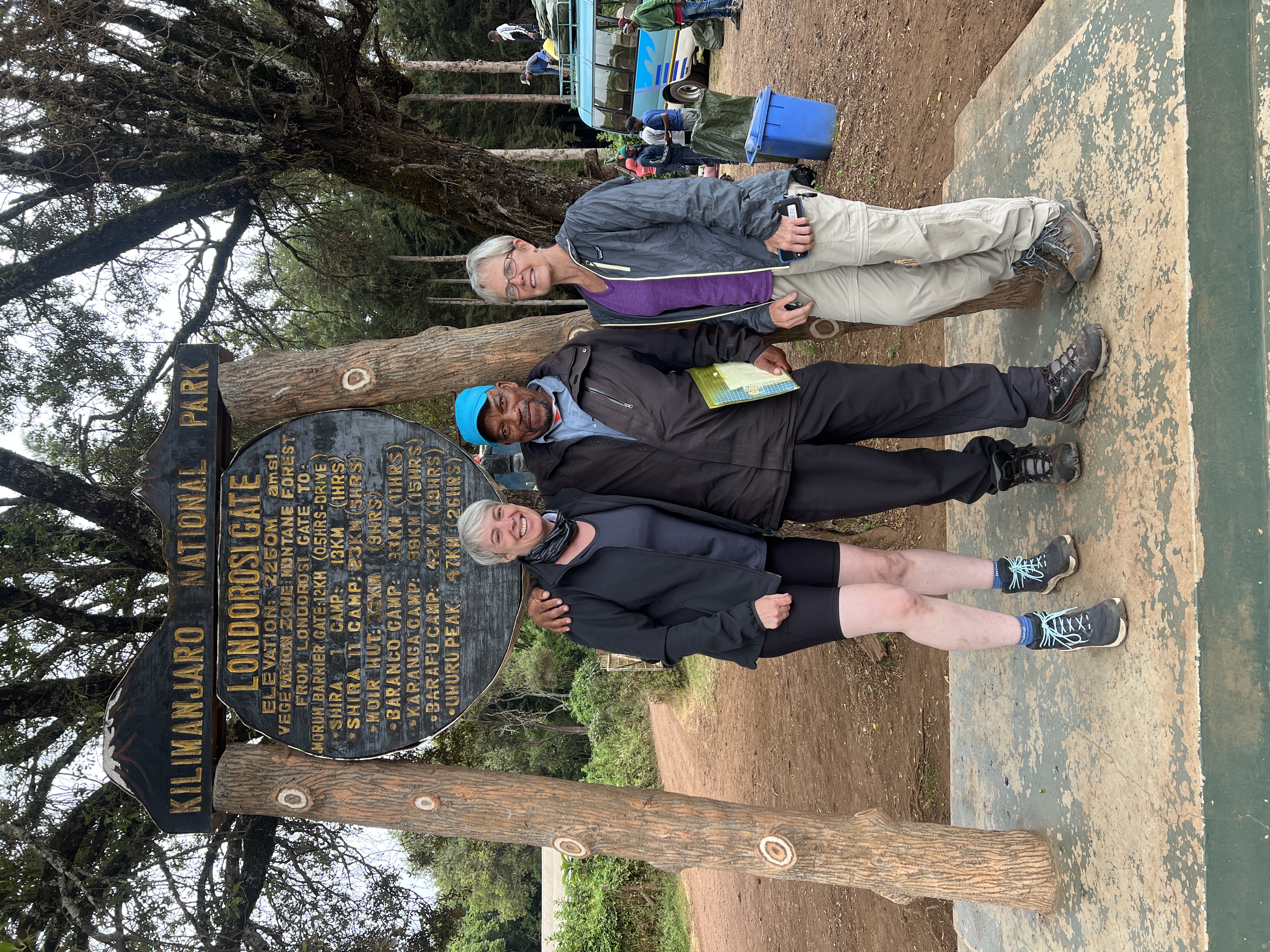 Me, Abel (our head guide), Lucretia
We arrived at Londorossi Gate at 3pm to an amazing welcome! At every camp in the morning or evening we were greeted by the porters and guides with a song and dance. I met one of our guides, January, named because his birthday is on January 1st. While we were having lunch of zucchini soup, vegetable stew, hot pasta and a pasta salad. Our duffel bags were being weighed to make sure that they weren't too heavy for the porters to carry. They could weigh no more than 15kg (that's why there was a lot of packing and unpacking last night!) and they were put on the bus that was taking all of the porters and guides to Morum Barrier Gate. We took a few photos at the gate and then we were also driven to Morum Barrier Gate through the clouds. It was about a 20 minute drive and we got our first glimpse of Kibo, which would take us 5 days to get to the base of and what we would summit on Sunday night.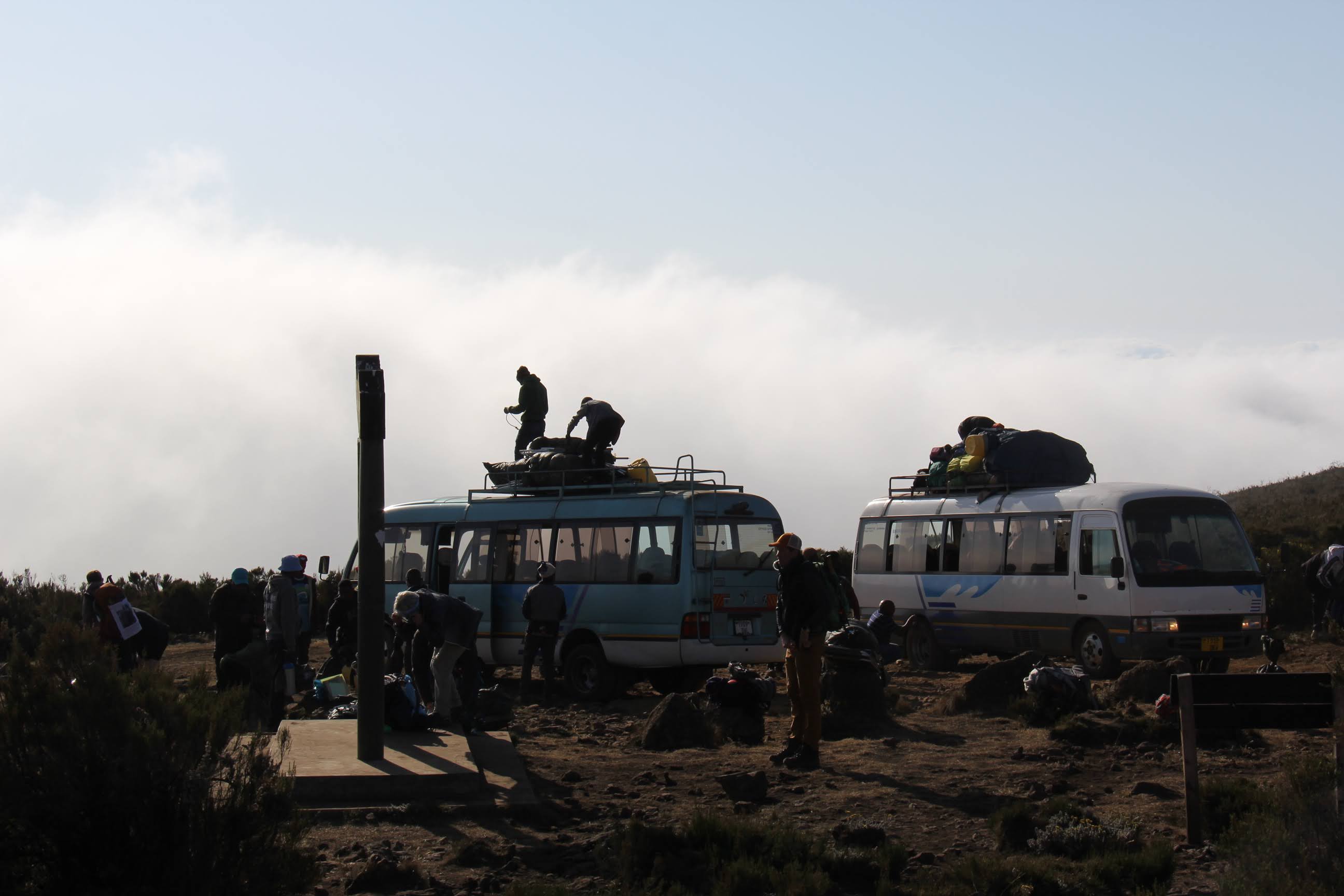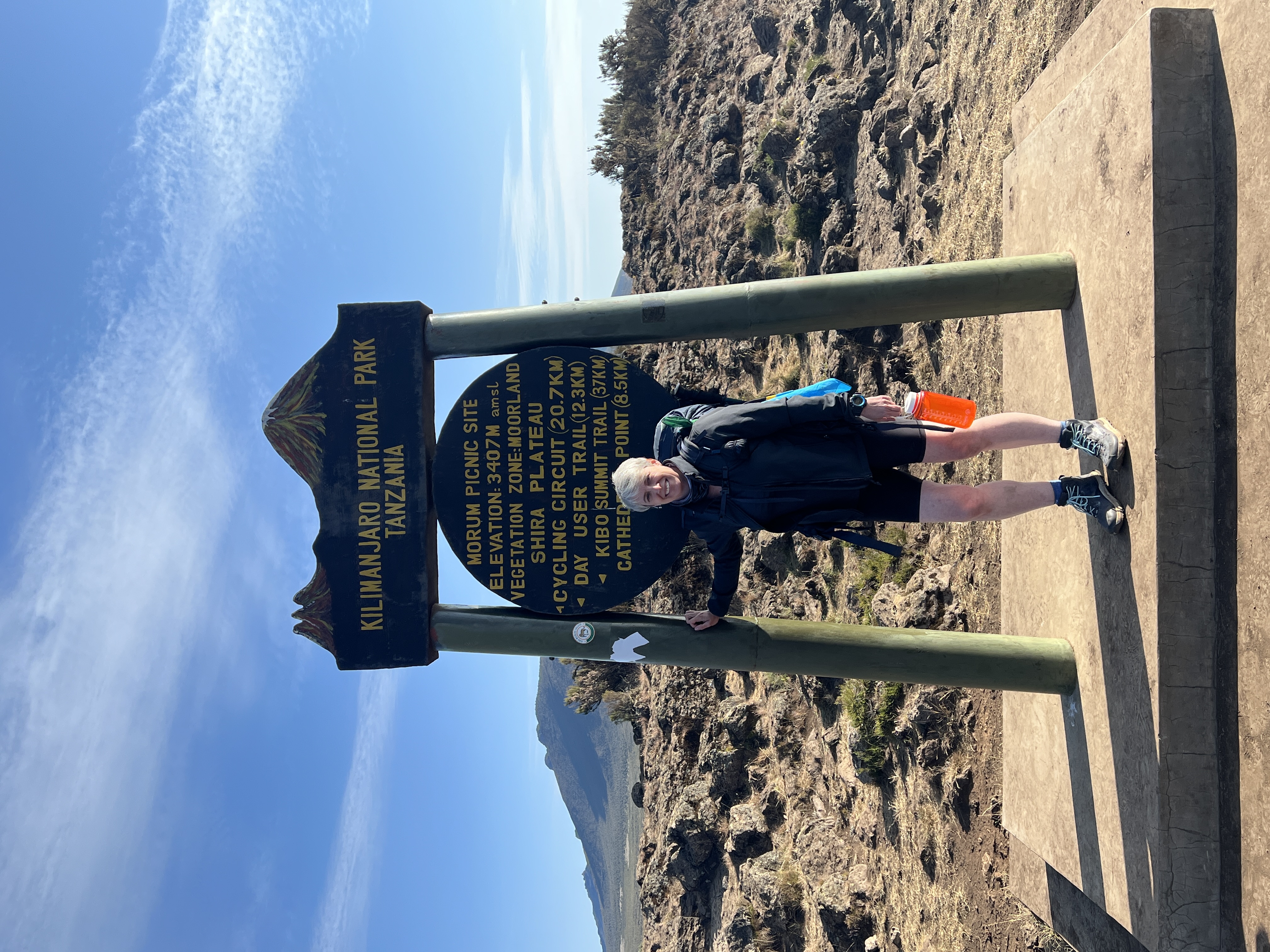 When we got to Morum Barrier Gate, the porters were already there unloading our duffels, the tents, cooking supplies, food and everything we'd need for the next 7 days from the bus. They headed off before us, with all of our belongings balanced on their heads to set up camp for the night.

The first rookie error I experienced was my water bladder, we had filled them up at Londorossi Gate, but I mustn't have screwed the top properly (actually something that I had to be really careful of for the rest of the trip, if it wasn't perfectly aligned, it would leak 🤦🏻‍♀️), so when I got off the bus, it had leaked through the bottom of my backpack. Luckily there wasn't really anything in it and Abel helped me use my rain coat to wrap round the pack, so that my bum didn't get wet. It actually dried out very quickly and it was fine the next day.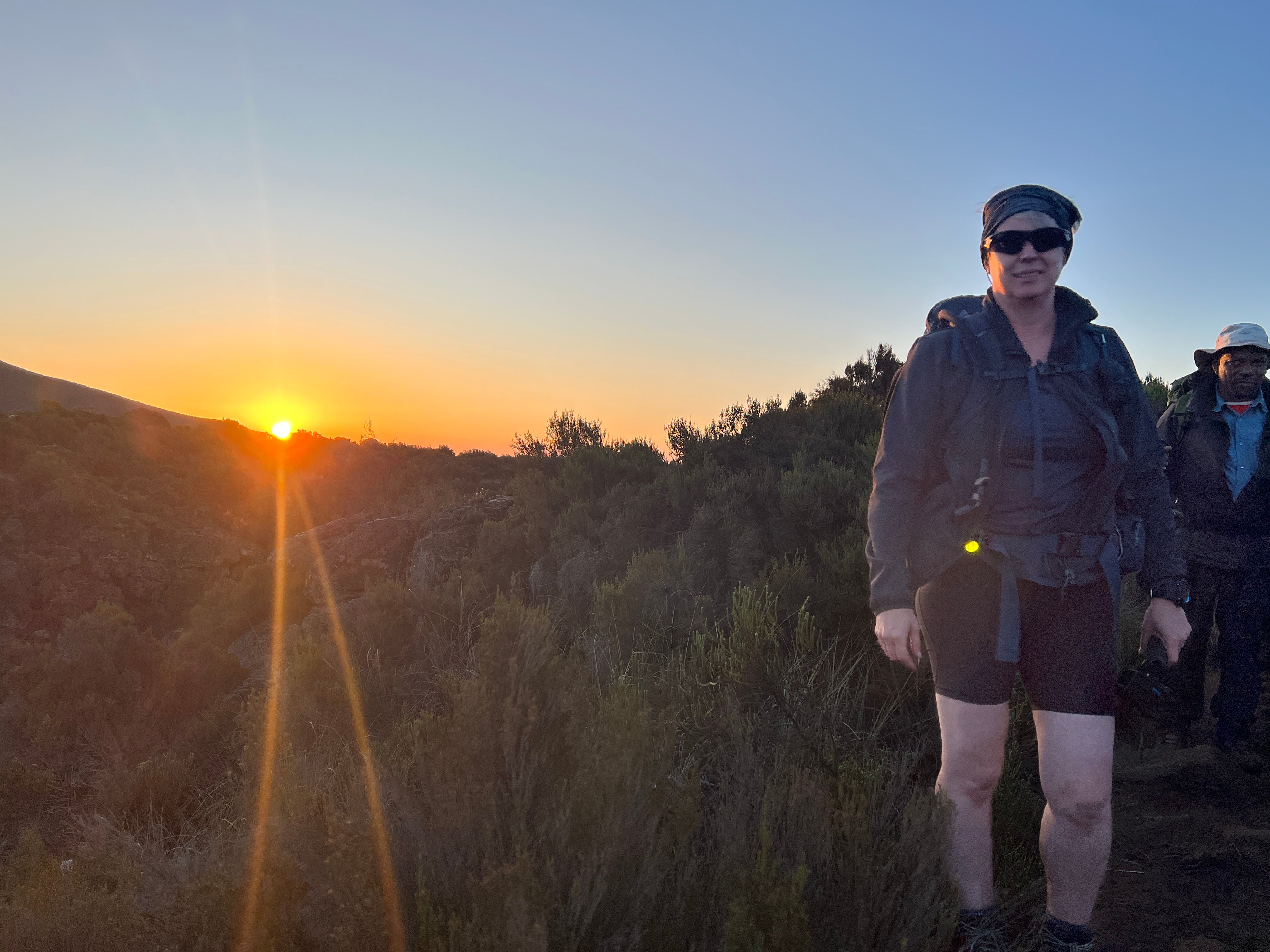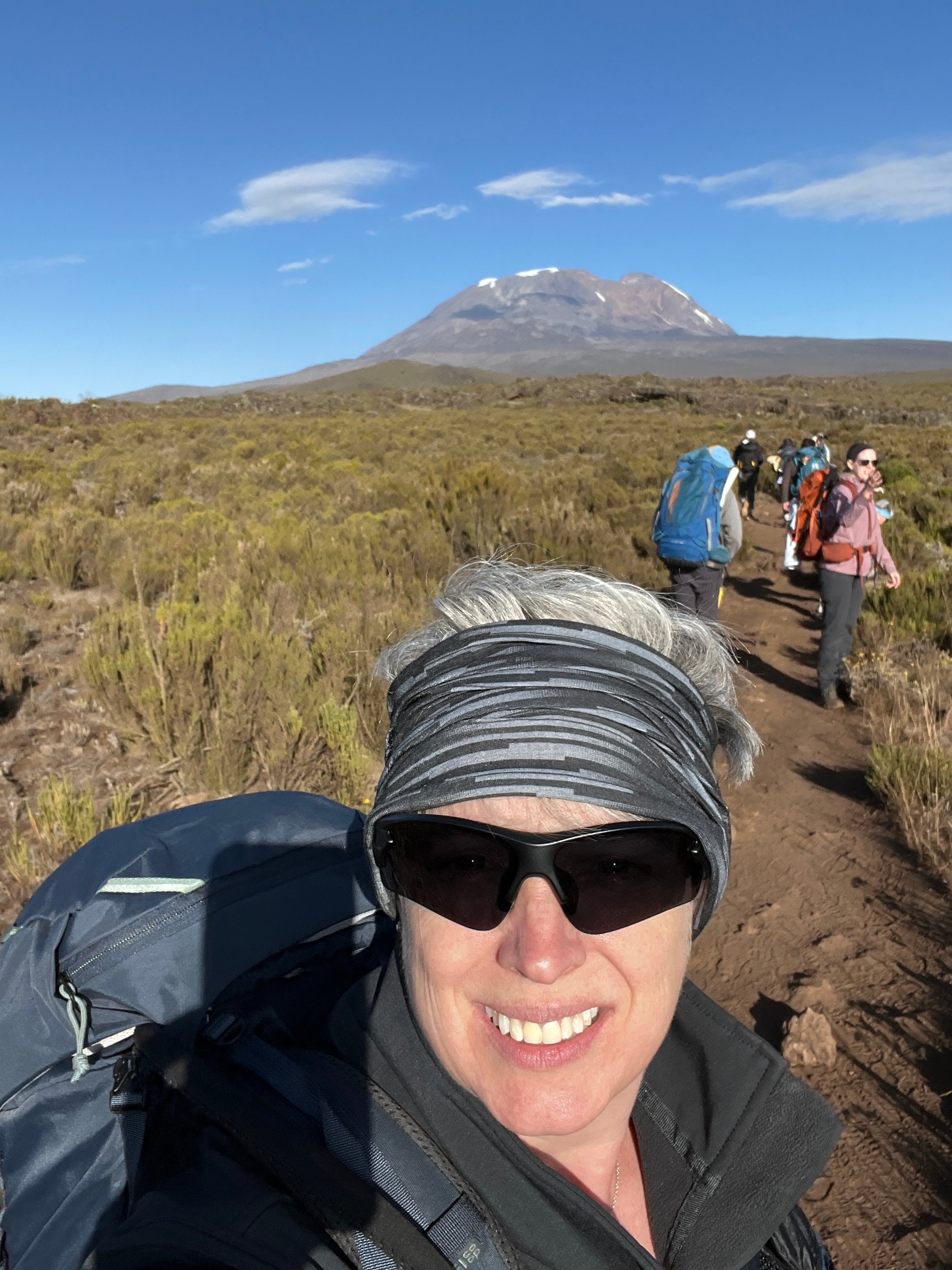 The hike was short but still took about 2 hours, the altitude already had my ears popping. We started at 3400m (11,200ft) at 5pm and got to Shira 1 Camp as the sun was going down. As soon as the sun went down it got cold, down to around 15c (59f). But the sunset gave us a beautiful view of Kibo, our destination, lit up in an orangey pink hue, it was stunning. I was near the back of the pack with Laura and she shared a beautiful story with me about her Dad (who passed away in 2021 and who she was climbing for). This would be one of the many stories that we all shared with one another on the trip.

Second rookie error, I decided to wear cycling shorts, it was warm enough, I wasn't cold. But what I wasn't prepared for was the amount of dust on the trail. We were in the Moorland climate of the mountain, which was actually the climate zone that we were in for most of the trail and the dust would get everywhere - including our lungs and noses, so by the end of the trip we were all coughing. So no more shorts for me!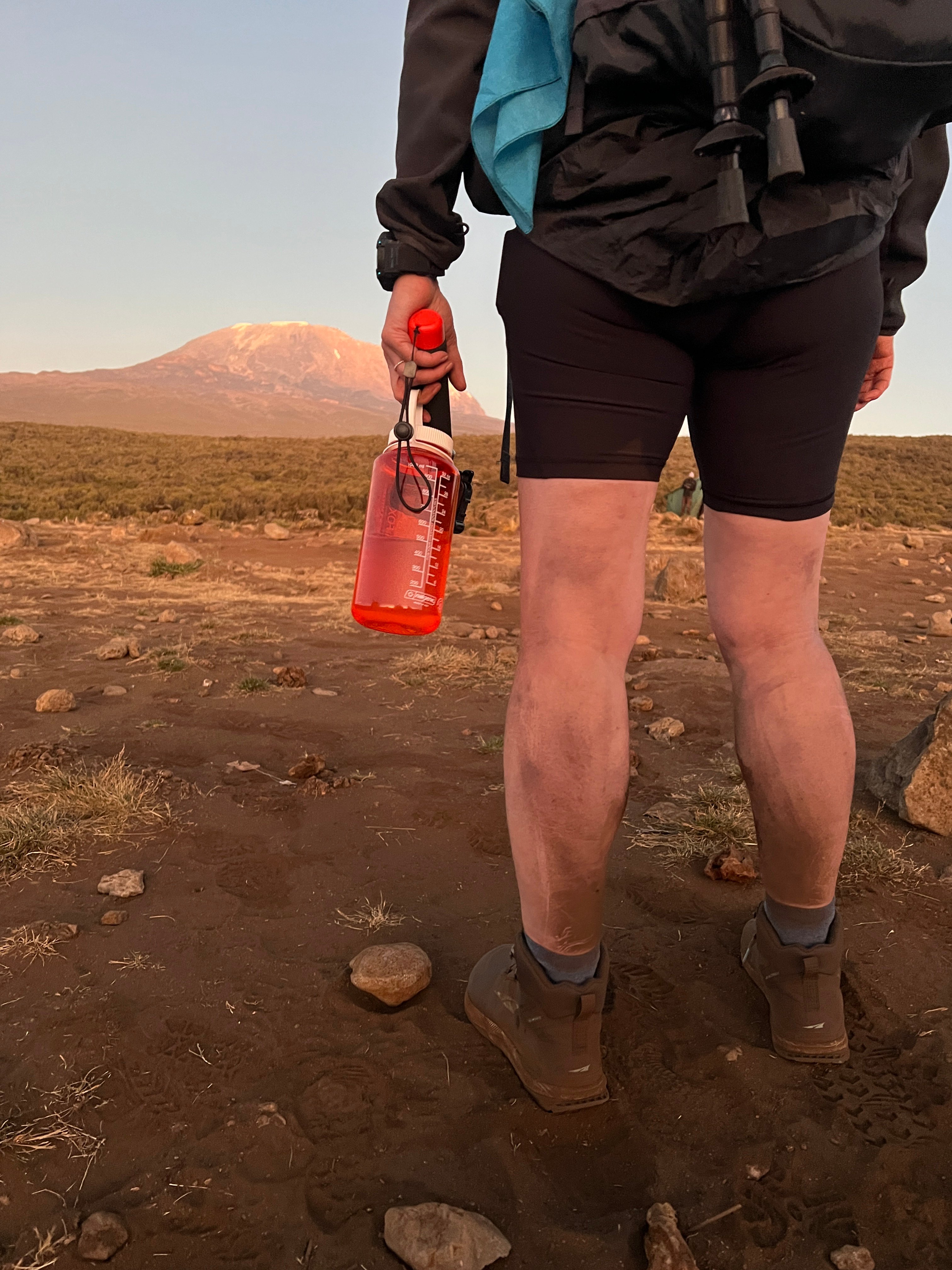 When we got to camp, 3,500m (11,483ft), the tents had been set up and our duffel bags were on a tarp. We were given directions on how to use the porta-loos that we had at each camp, this took me back to camping holidays in the Isle of Wight when we were kids. For some reason, it was the toilet situation that I hated most about camping when I was younger, so I can't say it brought back great memories! We chose our tentmates: Lucretia and I together, Kristen and Betty, Laura and Connie, and as there were three men, Justin and Alex spent the first night together and Mark had the luxury of his own tent. We got our bags in the tents and set up our sleeping bags, blow up mattresses (on top of the mattresses that were provided) and as best we could we got everything else situated. I say as best we could, because it was dark now and we couldn't really see what we were doing. I used the wipes I had brought to clean my dirty dusty legs and then it was time for dinner. We had popcorn and biscuits (English biscuits, not American biscuits!) for starters, then tuna, avocado salad, veggies, roast potatoes and probably a soup, as there was usually a delicious soup at lunch and dinner!

Abel came to the mess tent and told us our morning schedule:

Up early at 6:30am, wash at 7am, breakfast at 7:30am, leave camp at 8:30am.
All duffels needed to be packed and ready by 7:30am.

We all went to bed after dinner, there was no partying (on any of the nights!), we were all tired and ready for sleep. It took about an hour for me to get myself sorted out and I was able to sleep quite well.